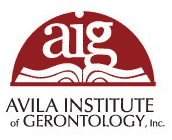 Avila Webinars
Exploring Ageism: Are We Guilty Too? (Live Webinar)
Webinar Description
Aging can be viewed as undesirable and portrayed in a negative light. Older adults are often the subject of negative stereotypes and assumptions. Societal jokes and images associated with aging such as "over the hill" themed cards and parties put a negative spin on getting older. Further fueling the problem is the media's portrayal of older adults in advertisements and commercials portraying seniors as frail, helpless and dependent on others. Stereotypes of aging are everywhere.

Ageism is a compounding problem that plagues even our most age friendly environments and people. Ageism puts unfair limitations on older adults' abilities to live to their fullest potential and devalues them as individuals. In a survey of older adults, 80% reported experiencing ageism (www.aoascc.org). Ageism can be so embedded in our daily lives, that our words, actions or views on our own changing lives can be conveyed as disrespectful even when disrespect is not intended. Even the most careful of advocates are indirectly guilty of ageism at some level.

In this live 1-hour presentation, Michelle Pandolfi will explore the "ism" of age. We will discuss how it impacts every age and even our unconscious contributions to it. Join us for a thought-provoking conversation about age as the last "ism.
This webinar will be streamed live from our 2019 long-term care conference, "Integrating Palliative Care in Continuum of Care Operations." The video will feature both footage of the speaker and the presentation slides.

---
More Information

If you have any questions or concerns about this program, please contact Tricia Misonznick at (518) 537-5000.
Registrants seeking continuing education will be asked to watch the live webinar in full, pass a post-test, and submit an evaluation form.

Administrators (NAB): This program has been approved for Continuing Education for 1.00 total participant hours by NAB/NCERS— Approval #20201007-1.00-A56446-DL.
Catholic Chaplains: The National Association of Catholic Chaplains has approved this program for a total of 1.0 Continuing Education Hours.
Dietitians (Registered): This educational program has been approved for 11.0 Continuing Professional Education Hours by the Commission on Dietetic Registration. Activity #148694. Learning Need Code (s) # 5390 7100 5100 5460 Performance Indictor(s) # 2.1.1, 8.2.3, 12.2.3, 6.1.2 This webinar is part of the program "Integrating Palliative Care in Continuum of Care Operations." People who complete this webinar in full will receive 1.0 Contact Hours.
Nurses: This continuing nursing education activity was approved by the Northeast Multistate Division, an accredited approver by the American Nurses Credentialing Center's Commission on Accreditation. Approved Contact Hour(s): 11.0 Program Code #: 002-153-070919. This webinar is part of the program "Integrating Palliative Care in Continuum of Care Operations." People who complete this webinar in full will receive 1.0 contact hours.
Recreation Therapists: The American Therapeutic Recreation Association has reviewed and pre-approved this workshop for up to 1.1 CEUs. ATRA awarded Category B CEUs are not automatically accepted for credit by NCTRC or other professional credentialing organizations. Individual CTRS's may submit the CEUs to NCTRC for consideration in their individual recertification process. Statistically, 85% of pre-approved ATRA CEU credits are also approved by NCTRC. Workshop # 191008NY This webinar is part of the program "Integrating Palliative Care in Continuum of Care Operations." People who complete this webinar in full will receive 0.1 CEUs.
New York State Social Workers: Avila Institute of Gerontology, Inc., SW CPE is recognized by the New York State Education Department's State Board for Social Work as an approved provider of continuing education for licensed social workers #0265.
Michelle M. Pandolfi, LMSW, MBA, LNHA
Director, Consulting Services at Qualidigm
Ms. Pandolfi has seventeen years experience in the long-term care profession and is a licensed nursing home administrator in the state of Connecticut. She is a director with twelve years experience managing the national nursing home quality improvement projects, patient safety and care transitions projects at Qualidigm. Michelle helped create the Connecticut's Culture Change Coalition in 2006 and maintains an active leadership role. She is a TeamSTEPPS Master Trainer and developed the long term care TeamSTEPPS curriculum under an AHRQ funded contract. She has spoken nationally about patient safety culture change and person-centered care in nursing homes.
Michelle's professional areas of specialization are in performance measurement, clinical systems improvement, root cause analysis, professional education, and patient safety. She is currently managing several nursing home quality improvement and patient safety projects that tie in with national priority areas. Some previous work of Michelle's includes managing Alzheimer/Dementia Units in nursing homes in Connecticut and Rhode Island and she worked for the Alzheimer's Association-Connecticut Chapter, for many years as a volunteer support group facilitator and as Director of Client and Family Services. She holds master degrees in Social Work Administration and Business Administration from the University of Connecticut. She holds a bachelor degree in Social Work from Providence College.
$i++ ?>
Components visible upon registration.