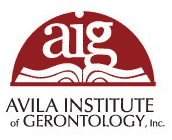 AIG Learning Center
(e) First Webinar: A Tapestry of Needs and Strengths: Ministering to Older People with Realism and Hope
This presentation will be a broad review of the demography of aging, the challenges this presents, the importance of considering the diversity of the aging person, attention to the functional status of the older person as a key to care, and a brief discussion of common geriatric syndromes. To earn a continuing education credit hour, you must be present for this two-hour webinar in its entirety.
Learning Outcome:
Discuss two or three strategies for maintaining the functional status of a diverse elderly population.
Continuing Education
Registrants seeking continuing education will be asked to watch the webinar in full, record and submit verification codes, and submit an evaluation form.
Nursing Home Administrators: This program has been approved for Continuing Education for 2 total participant hours by NAB/NCERS—Approval #20221010-2-A77193-DL.
Catholic Chaplains: The National Association of Catholic Chaplains has approved this program for 2.0 Continuing Education Hours.

Dietitians (Registered): This webinar is part of the program "Calm After the Storm: A Caregiver's Parachute to Safety." People who complete this webinar in full will receive 2.0 Contact Hours. This Educational Program Has Been Approved For 10 Continuing Professional Education Hours By The Commission On Dietetic Registration. CPE Prior Approval Verification Activity 164786 Performance Indicators: # 3.1.1; 7.3.2; 8.3.5; 8.4.1.
Nurses: This nursing continuing professional development activity was approved by the Northeast Multistate Division Education Unit, an accredited approver by the American Nurses Credentialing Center's Commission on Accreditation. Approval Code #: 002-640-072721 This webinar is part of the program "Calm After the Storm: A Caregiver's Parachute to Safety." People who complete this webinar in full will be awarded 2.0 Contact Hours of a 10 hour course.
Recreational Therapists: This webinar is part of the program "Calm After the Storm: A Caregiver's Parachute to Safety." People who complete this webinar in full will receive 0.2 CEU's. ATRA has reviewed the seven (7) workshop sessions and these sessions have been approved for a total of 10 contact hours of CEUs or 1.0 CEUs (as expressed in tenths of a unit -- 1 contact hour equals 0.10 CEUS).
New York State Social Workers: Avila Institute of Gerontology, Inc., is recognized by the New York State Education Department's State Board for Social Work as an approved provider of continuing education for licensed social workers #SW-0265. Social Worker CE approval is for New York Social workers only. Other state licensees aren't eligible to receive pre-approved credit.
---
More Information
If you have any questions or concerns about registering and attending the webinar, or about continuing education, please contact support@avilainstitute.org.
Fr. Myles N. Sheehan, SJ, MD
Assistant to the Provincial for Senior Jesuits, USA Northeast Province of Jesuits
Fr. Myles N. Sheehan, SJ, served as Provincial of the New England Province of Jesuits from July 31, 2009 to December 2, 2014. Fr. Sheehan joined the New England Province of Jesuits on August 25, 1985, made his novitiate at St. Andrew House in Boston, MA, and was ordained to the priesthood on June 18, 1994. On April 22, 2005, he professed solemn vows in the Society of Jesus.
Fr. Sheehan was born on April 18, 1956, in Marshfield, Massachusetts, and graduated from Thayer Academy, Braintree, Massachusetts in 1974, Dartmouth College in 1978 and Dartmouth Medical School in 1981. He trained in Internal Medicine at Boston's Beth Israel Hospital from 1981-1984 and received further training in Geriatrics from the Harvard Geriatric Fellowship Program from 1989-1991. Fr. Sheehan received an M.A. in Philosophy/Health Care Ethics in 1989 from Loyola University of Chicago and an M. Div. from Weston Jesuit School of Theology in Cambridge, Massachusetts in 1994.
From 1991-1995, Fr. Sheehan was an Instructor in Medicine at Harvard Medical School and attending physician and Director of Geriatric Consultation Services at Beth Israel Hospital. In 1995, Fr. Sheehan moved to Loyola University Medical Center in Maywood, Illinois. From 1992-1995 Fr. Sheehan was the recipient of a Brookdale Foundation Fellowship in Geriatrics, and from 1999-2001 Fr. Sheehan received a faculty fellowship from the Project on Death in America and developed the Recovering Our Traditions curriculum, aimed at improved end of life care in the Catholic community.
Dr. Sheehan's activities at Loyola University included administrative, teaching, and curricular development work in his role as Senior Associate Dean and Director of the Ralph P. Leischner, Jr. Institute for Medical Education. He had a practice in geriatric medicine along with his work in end of life care and improving palliative care, especially in Catholic healthcare. Fr. Sheehan was named one of Chicago's Top Doctors yearly from 2002-2010. He is a member of the Board of Trustees of the Catholic Health Association. In 2007, Fr. Sheehan was named a Fellow of the American College of Physicians.
$i++ ?>
Components visible upon registration.