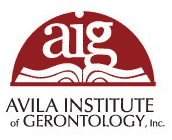 AIG Learning Center

---
October 11-13, 2021 Livestreamed Webinars
Ministering to elders amid a global pandemic permeating with uncertainty is not for the faint of heart. Since the COVID-19 pandemic began, long-term care has faced challenges that it could not have anticipated. We are grateful to those in long-term care who united to protect and provide for the elderly. As the educational arm of the Carmelite Sisters for the Aged and Infirm, we strive to support you in your ministry by responding to your education needs and interests.
The Avila Institute of Gerontology invites you to join us for our livestreamed webinars on October 11-13, 2021, where we will provide education in areas that will support you in adjusting and thriving in our new, post-pandemic (hopefully permanent) reality in the eldercare space. The event will cover areas such as palliative care, aging and dementia, regulatory and enforcement criteria due to the pandemic, cultivating a healthy lifestyle, and developing a resilient mindset in these ever-changing times. See below for more information.
View and download the program here.
Registration
Scroll down to the bottom of this page to find registration options. You can register by session, day, or for the full package.
The Elevate system, which hosts our fabulous content for your learning enjoyment, is no longer compatible with Internet Explorer. Please join us online using a modern browser such as Microsoft Edge, Google Chrome, or Mozilla Firefox. To test your browser, use this "browser test". This site also uses pop-up windows. Please disable any pop-up blockers on your Web browser before using.
Thank you for your resilience through this extraordinary period, adjusting our sails to the wind to keep moving forward.
Continuing Education

For up-to-date credit information for Administrators, Nurses, Social Workers, Dietitians, Recreational Therapists, and Catholic Chaplains, refer to the Overview tab in each webinar's product page.
Attendance
All participants must watch each session in its entirety and complete an evaluation form for each to earn credits.
Refund Policy
Cancellation and refund requests must be made in writing (email is acceptable) and must be received 7 days prior to the event to be eligible for a full refund. If a request is made after this date, a credit voucher will be issued to be used toward a future AIG event. The voucher expires within 1 year of the cancellation. AIG regrets that refunds will not be given for no-shows. Substitutions are accepted without penalty and must register for the event, noting who they are replacing. Please send all cancellation and substitution requests to support@avilainstitute.org.
Event Cancellation Policy
The Avila Institute of Gerontology, Inc. reserves the right to cancel any scheduled event due to unforeseen circumstances at any time.
For questions and technical assistance, please email support@avilainstitute.org.
There are no products which match your search criteria.
| Access Date | Quiz Result | Score | Actions |
| --- | --- | --- | --- |