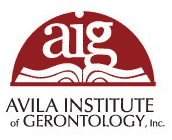 Avila Webinars
Disorders and Diagnoses that Differ from Dementia
Webinar Description
This webinar discusses the differences between Alzheimer's disease and dementia while exploring how depression and delirium also differentiate from dementia. It is broken down into two parts:
Is It Alzheimer's?
There are multiple diseases that can cause dementia, which is an umbrella of symptoms that affect memory, thinking and can make daily life very complicated. Since more than one disease can cause dementia, it can be difficult to decipher what is actually causing the dementia. Alfred W. Norwood, BS, MBA, will describe:
How Alzheimer's disease (the most common disorder that causes dementia) affects the brain
Causes and effects of Alzheimer's disease
How caregivers define resident quality of life
The 3D's: Depression, Delirium, and Dementia
Depression, delirium and dementia can be difficult to differentiate. It is important that caregivers understand typical resident behaviors so that they accurately observe any changes. Understanding the resident ensures he or she is appropriately treated for depression, delirium or dementia. This provides valuable insight to the healthcare team on the differences between these three diagnoses. You will learn:
About dementia and other common diseases of aging
Depression and its causes and symptoms
How depression differs from dementia and how to help
Delirium and its causes and symptoms
How delirium differs from dementia
Improper medication use as a source of delirium
---
More Information

If you have any questions or concerns about this program, please contact us at support@avilainstitute.org.
Registrants seeking continuing education will be asked to watch the live webinar in full, pass a post-test, and submit an evaluation form.

Administrators (NAB): This program has been approved for Continuing Education for 1.25 total participant hours by NAB/NCERS— Approval #20210421-1.25-A66823-DL.
Catholic Chaplains: The National Association of Catholic Chaplains has approved this program for a total of 1.0 Continuing Education Hours.
New York State Social Workers: Avila Institute of Gerontology, Inc. is recognized by the New York State Education Department's State Board for Social Work as an approved provider of continuing education for licensed social workers #0265. Participants can earn 1.0 contact hours.
Alfred W. Norwood
Faculty, Avila Institute of Gerontology
Alfred is an expert in physiological psychology who has worked with the Avila Institute for the last 15 years, developing and presenting workshops and in-services on a number of topics associated with aging. He has years of experience working as a consultant for long-term care systems and facilities and trained staff in the use of non-pharmaceutical, individualized care plans for residents with moderate to severe dementia.
$i++ ?>
Components visible upon registration.