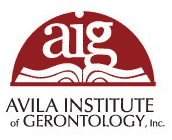 Avila Webinars
Dementia Progression from Moderate to Advanced
This webinar discusses the effects of dementia in moderate to advanced stages. It's broken down into two parts:

Understanding Moderate Dementia
It's challenging to understand how life changes brought on by moderate dementia will affect a person. Some days will feel normal with the person having full ability to remember and carry on normal activities. Some days will be full of confusion and disorientation which affects communication and understanding. This can be extremely frustrating to persons with dementia as well as to their caregivers. Alfred W. Norwood, BS, MBA, addresses the knowledge necessary for providing excellent care through the middle stage of dementia.
Participants will learn:
What it feels like to have moderate dementia: confusion, stress, and disorientation
The five burdens of family caregivers
Details of changes in thinking, emotions, personality, and physical ability
Best communication strategies to use for moderate dementia
Techniques to assist residents with ADLs
How to master the three steps of any ADL: Approach, Gain cooperation, and Reward
Advanced Dementia
Care staff work endlessly to provide quality care for residents with advanced dementia. It's a very difficult but rewarding job. Residents with advanced dementia are unable to verbalize their wants and needs and are completely dependent during ADLs. Understanding the look and feel of advanced dementia is key when caring for these residents. Caregivers must be fluent in communicating with residents with dementia and recognize that behaviors are attempts at communication. It's crucial that caregivers of residents with advanced dementia be educated in the fragile experience of the dying process for the resident, as well as the grieving process for the family.
This webinar will review many important topics, such as:
The look and feel of advanced dementia
End-stage dementia and dying
Advanced dementia and memory
Advanced dementia and cognition
Behaviors
Positive environment modifications
Advanced dementia and pain
Advanced dementia and spirituality
General communication in severe dementia
How not to communicate with a resident with advanced dementia
ADLs (activities of daily living) communication in advanced dementia
Grief and grieving
More Information
If you have any questions or concerns about this program, please contact us at support@avilainstitute.org.
Registrants seeking continuing education will be asked to watch the live webinar in full, pass a post-test, and submit an evaluation form.

Administrators (NAB): This program has been approved for Continuing Education for 1.25 total participant hours by NAB/NCERS— APPROVAL # 20210421-1.25-A66848-DL
Catholic Chaplains: The National Association of Catholic Chaplains has approved this program for a total of 1.00 Continuing Education Hours.
New York State Social Workers: Avila Institute of Gerontology, Inc. is recognized by the New York State Education Department's State Board for Social Work as an approved provider of continuing education for licensed social workers #0265. Participants can earn up to 1.0 contact hours.
Alfred W. Norwood
Faculty, Avila Institute of Gerontology
Alfred is an expert in physiological psychology who has worked with the Avila Institute for the last 15 years, developing and presenting workshops and in-services on a number of topics associated with aging. He has years of experience working as a consultant for long-term care systems and facilities and trained staff in the use of non-pharmaceutical, individualized care plans for residents with moderate to severe dementia.
$i++ ?>
Components visible upon registration.